About us
---
We design, sink and rehabilitate shafts.
Any mineral. Any geology. Anywhere. Our customers trust us as a leader in shaft sinking. We earn this trust by taking each project for the unique challenge that it is and by implementing our core strengths, know-how and experience into every phase of the project.
Priciples
---
Durability
latest calculation methods
quality materials and inspected suppliers
project quality assurance
proven methods, materials, systems
best equipment available
state of the art technology
durable machines with less downtime
Precision
quality assurance
experienced and well trained engineers
latest technology
laser based meansuring systems
precise workflows
Cost-effective
realistic cost estimates
no surprises
stay on budget
assure uninterrupted operations
appropriately sized machines recommended
stay on schedule
minimize sinking time
Timing
realistic time estimates
proper scheduling
own equipment
own experienced and flexible people
experienced project managers
real-time data transmission to design office
deadlines are top priority
effective monitor and control
all services under one roof
Mission, Vision & Values
---
Who We Are (Mission)
WE DESIGN, SINK AND REHABILITATE SHAFTS. ANY MINERAL. ANY GEOLOGY. ANYWHERE.
We are your trusted and reliable shaft sinking partner from start to finish. Exploratory Drilling. Design & Engineering. Sinking. Rehabilitation.
We treat every project as the unique challenge it is, working together with our customers to understand the problems they are facing - be it challenging ground conditions, harsh climates, or other unique circumstances. We then tailor our methodology to reflect the customer's individual requirements.
What We Aim For (Vision)
We strive to be the partner of choice in shaft sinking projects.
Our customers trust us as a leader in shaft sinking.
We develop close relationships with our customers and gain intimate knowledge of their needs, creating added-value by making it possible for them to concentrate on their core businesses.
How We Are Getting There (Values)
COMMITMENT TO EXCELLENCE
Quality Assurance
We plan meticulously and perform thorough reviews to deliver quality work to budget and on schedule.
Expertise
Our team is comprised of talented individuals who bring a wealth of industry knowledge, skill, and experience to the table.
Competence
We pride ourselves on personal and professional competence and strive to deliver them in every project.
CONTINUOUS INNOVATION
Innovation is our tradition
It has been for the last 120 years and will continue to be our tradition in our future operations.
Development
We continuously play a leading role in the development and introduction of new technologies.
Technology
We use the latest technologies and methodologies in our approach and when that will not suffice, we pioneer new ones.
CUSTOMER ORIENTATION
Partnership
We build long-term relationships based on trust and reliability.
Results
We are focused on delivering excellent results in every project because we want to see our customers more than once.
Performance
We push to exceed the normally accepted industry standards in terms of precision, durability, costs and timing.
PROTECTING OUR PEOPLE
Safety Plan
Each project has a customized safety program to ensure our people have the safest possible working environment.
Training
We continuously train our managers and team members on health and safety in the workplace.
Supervise
We also implement strict codes of conduct to ensure these trainings are applied in daily practice.
RESUFLT ORIENTED
Resource Management
We sustain ongoing profitable performance through cost awareness and continuous improvement in our cost structure. Our resources are planned, organized, and managed effectively and efficiently.
Long-term
We have a long-term oriented growth strategy and not a focus on the short-term gain.
Occupational safety
---
Preventing personnel injury and property damage, the safety of third parties and environment protection should have the highest priority in all activities. Scrupulous implementation of the safety rules, cautious handling of hazardous substances and making the employees sensitive to possible dangers are primary objectives. Equipment and measures to ensure accident-free, hazard-free work should be provided as early as possible. Great value should be placed on implementation the protective measures in all work sites.
Safety - first, last and always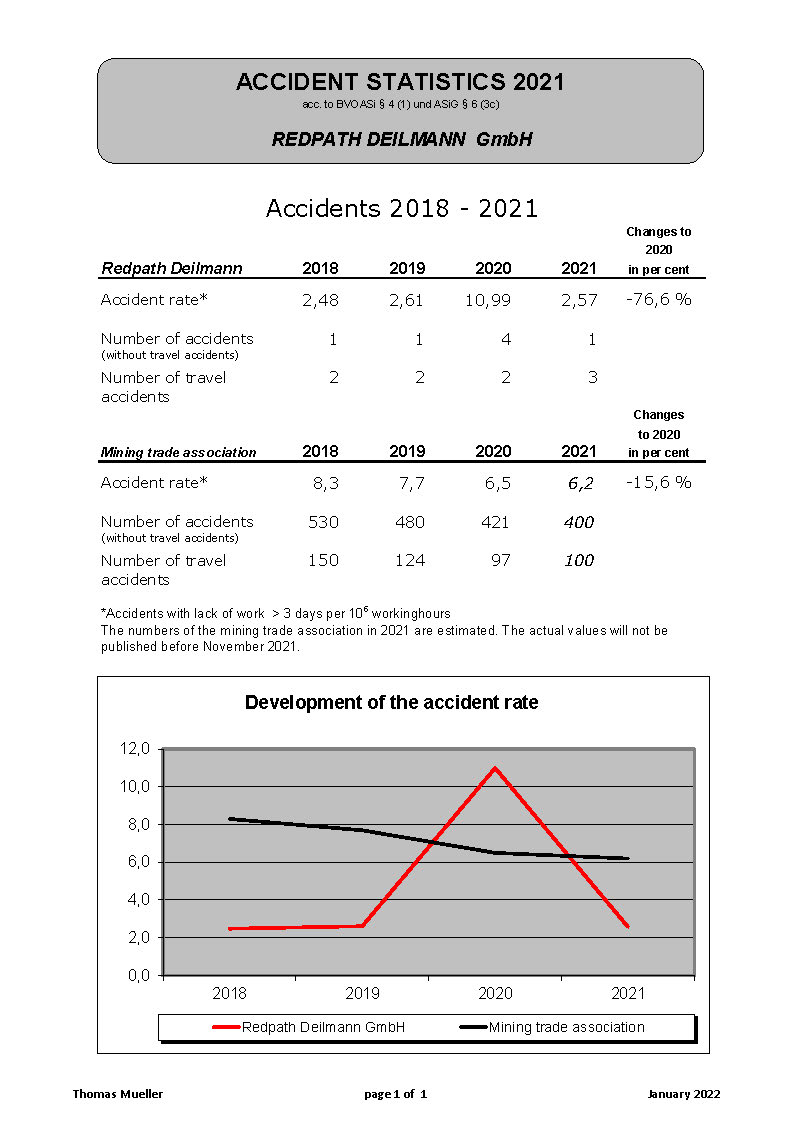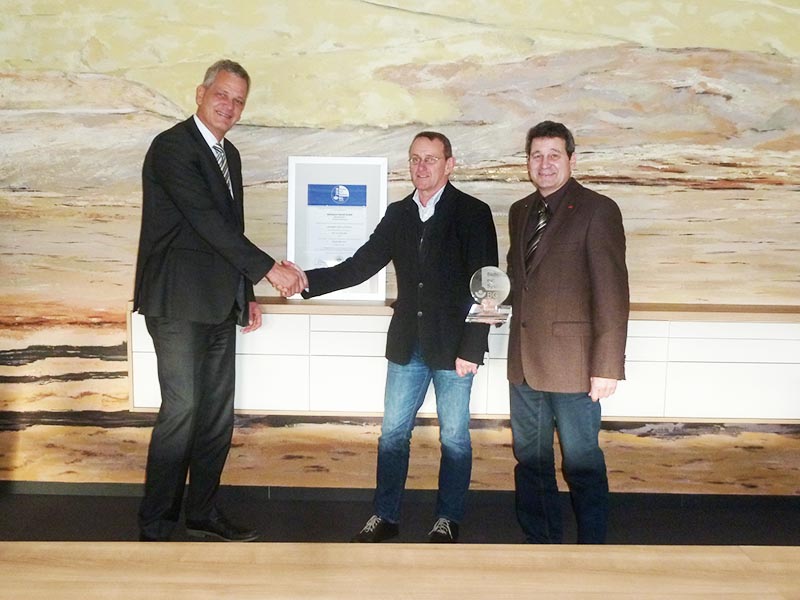 Downloads
Cardinal Rules
Das 5-Punkte Sicherheitssystem
Unternehmenspolitik zum Arbeits- und Gesundheitsschutz
Accident statistics 2021
Corporate Structure
---
Since 1 January 2012,Redpath Deilmann is a 100 % subsidiary of Redpath Mining Inc. (North Bay, Canada), which is the leading provider of specialized mining services with companies in the big mining areas across all five continents.
Redpath belongs toRedpath Deilmann International Mining and Tunneling GmbH (DHI), which is in turn part of the ATM Holding GmbH.
ATM Holding GmbH is fully owned by the family of Dr. Lutz Helmig and has a number of subsidiaries in commodities, technology and services.